Salvete !
In almost every hobby a collecting instinct can be developed, of course also in gladiature. So we collect helmets at the Berlin Gladiators now. According to our helmet overview we are still missing a few specimens and types. Therefore we ordered new helmets for the Ludus from Fabri Armorum in the Czech Republic. Here comes the first result:
Our Thracian Maevia receives a new helmet of the Pompeii type. This is based on a find from the famous Roman city buried by Vesuvius. The typical feature is the floppy hat-like brim. The distinctive mark of all gladiators fighting as Thracians is the griffin's head, which is especially beautifully crafted on our new helmet. If you want to see the original from Pompeii, you can do so in the Louvre in Paris.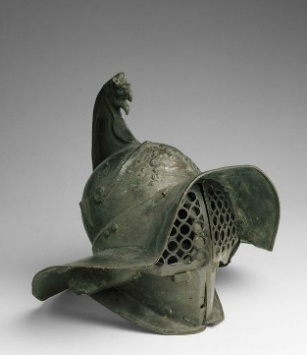 We have decided, because of the targeted durability of 2-5 years, against a rich decoration of the helmet Also in the material we have deviated from the find. Instead of bronze, we had the helmet made of modern steel. This not only increases the durability, but also ensures the highest level of protection.
On the basis of the following picture the new helmet can be classified in the used helmets of the imperial age. Thus, our Ludus now has all imperial-era helmets in use except for the Thraex-Tralles helmet.

For those who are particularly interested, please refer to chapter 8.1. in the Thracian Handbook.
There you will find more pictures and more detailed explanations about the use of the helmets.
Your Berlin Gladiators